Bard Ionson is one of 50 artists featured in "CRYPTO ART – Begins," the first NFT book to chronicle the history and evolution of Crypto Art
"CRYPTO ART – Begins" chronicles the exciting beginnings and evolution of Crypto Art through the story and work of 50 of the world's top artists who contributed to its birth and are still an active part of its present and future revolution with their NFT projects.
CRYPTO ART – Begins presents Bard Ionson
Bard Ionson is an artist who uses his knowledge of digital to produce art.
His works address the theme of reality in all its complexity and reveal how technology is changing us.
WHO IS BARD IONSON?
Bard Ionson was born in Colorado and studied information technology and programming.
It is his technical skills that facilitate his path to digital art. In 2018 he lands in the environment of Crypto Art where he finds a welcoming dimension where he is free to share his art with true enthusiasts. 
His NFT works thus began to gain visibility, inaugurating his career as a crypto artist.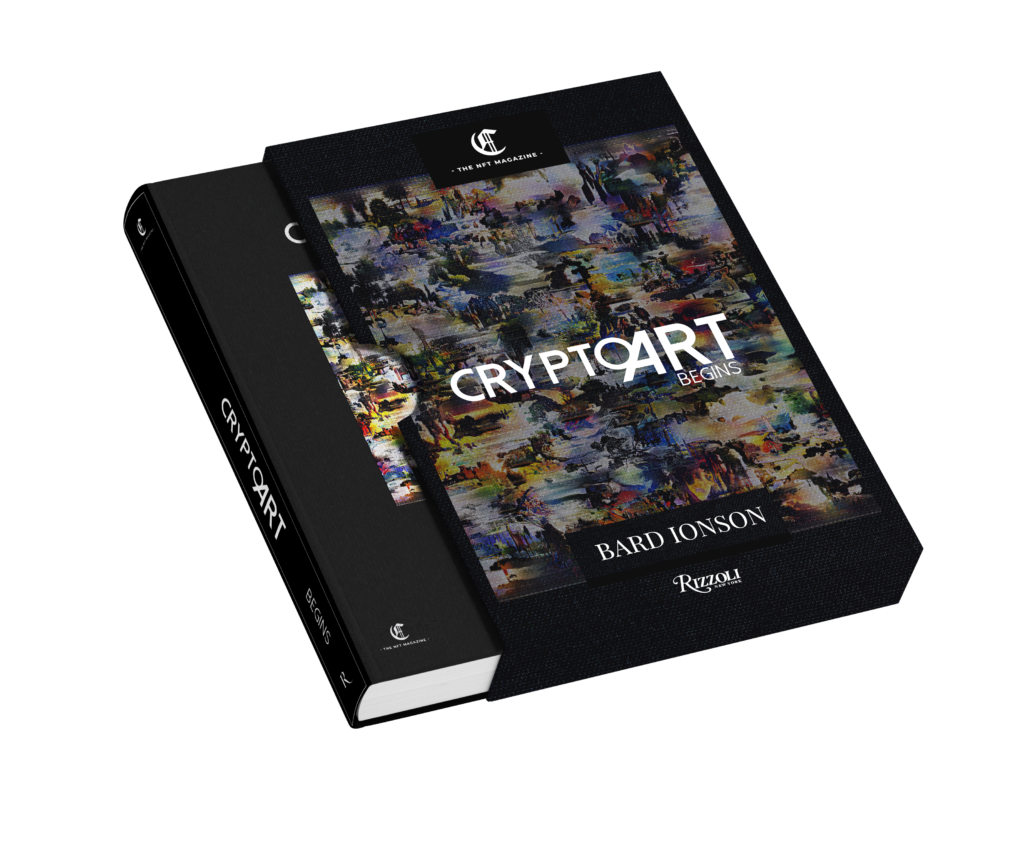 HIS ART
Bard Ionson is fascinated by experimenting with the distortion of reality. His art exists in the space between tangible and sensory reality, electronic reality and spiritual reality.
His artistic thought is declined through very different expressive means that are not limited to Crypto Art.
One of the techniques used by Ionson is scanography. The plane of the scanner is used to capture the image of anything that can be placed on it.
Ionson plays with the images he created and collected, which are modified by inserting glitches, a metaphor for the transition between different planes of reality.
Ionson's art can also break out of the two-dimensional dimension. Some of his works combine sound and animation, the result of his work with oscilloscopes, i.e. instruments for measuring energy, current and voltage.
Bard Ionson's reflection on reality and the digital is perfectly rendered by "Desolation of Empire".
The reworking of the works of the English painter Thomas Cole is a starting point to narrate the end of art that speaks of the Western expansionist utopia in favor of a new art that highlights the corruption of contemporary times.
Cole painted the United States in its early days, illuminated by the light of the promise of empire. Ionson tells him that that dream is dead.
Fragments from the British painter's paintings and Donald Trump's campaign images are fused together by an expanse of glitch that drives the transition between utopia and reality.
The same taste for abstraction returns in "A Time to Protest", an NFT work in motion that invites us to divide the time of emotions in an age dominated by instinct rather than reflection.
CURATOR ELEONORA BRIZI SAYS ABOUT BARD IONSON
Eleonora Brizi, curator and founder of Breezy Art, who curated for The NFT Magazine the selection of 50 artists featured in the book "Crypto Art – Begins" writes about the artist Bard Ionson:
"For Bard Ionson, technology is more than a tool; somehow it is changing the human mind and influencing the culture and world around us in ways we don't understand. When introduced into a physical space, technology causes distortion and, in between, glitches happen."
What are you waiting for? Find out all about the artists of "Crypto Art – Begins"!